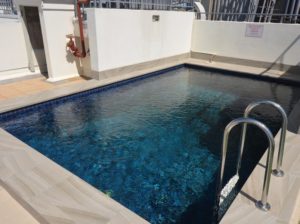 Come on in to the roof top pool.  Available to all residents. The roof terrace is open from 5:30 am to 9 pm and a group is limited to 8 persons.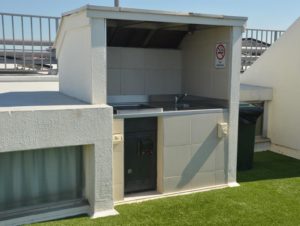 Electric BBQ is available to all residents at no charge.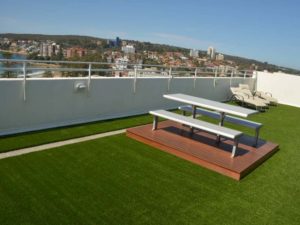 Roof top terrace has fabulous views of Manly Beach and out to Shelley Beach.  Great spot for whale watching.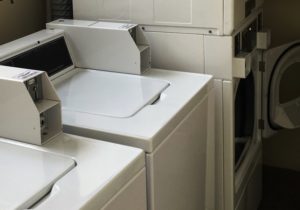 Rooftop laundry coin operated washers and dryers. 3 x $1 coins.
Do the laundry and enjoy the view. 5:30 am to 9 pm.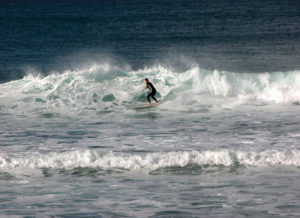 Check out the surf and beach conditions live at Manly with Swellnet's Surfcam located on the roof of the Manly National Building.
Commercial and Retail
Offices are located on Level 5 if you are in need of engineering skills, legal advice or stockbroking.
The ground floor retail area provides services such as printing, post office, gym, hairdresser, nail salon, key cutting and a restaurant.
There is also a toilet for residents and guests on the ground floor accessed by using the front door key of your apartment.
Garbage room is located in Central Avenue and can be accessed with your secure fob.
 Girdlers Cafe

Open for breakfast and lunch.  Located in Short Street Plaza.

Please note there is no smoking allowed anywhere in the building or on the balconies.
Medical Centres
Northern Beaches Hospital 105 Frenchs Forest Rd provides 7/24 Emergency Services 9105 5000 Map
Raglan Street Medical Centre 2/43 Belgrave St 9977 8733 Map
Manly Medical Centre 15 South Steyne 9977 7612 Map
Transport
Bus, train, and ferry timetables and routes plus information on Opal cards are available from NSW Govt Transport website.
Rental cars from GoGet and PopCar are conveniently located in the building in the Council car park.
Parking
Public parking is available in the building on Levels P1 to P6 in the Council operated car park.  First two hours are free.   Resident parking with secure fob access is available  on Level R4.  Parking availability and further details of public parking are available from Northern Beaches Council.
Chemists and Newsagents and Supermarkets
Malouf Manly Pharmacy 15 The Corso 9977 1029 Map
The Corso Pharmacy 8-28 The Corso 9977 3433 Map
Humphreys Newsagency 60-62 The Corso 9977 1699 Map
Coles and Aldi Supermarkets Map
Getting around the greater Manly area
Free Hop Skip and Jump bus is available to get you to nearby major shopping destinations such as Harris Farm and Stockland Mall.  Walks, maps, bicycle paths, and more information on Manly is available from Northern Beaches Council.
Banking
Banks and ATM are nearby. Map
Laundry and Dry Cleaning
Manly Corso Laundry provides full laundry, ironing and dry cleaning  services.